ARA Libertad is a steel-hulled, full-rigged, class "A" sailing ship that serves as a school vessel in the Argentine Navy.One of the largest and fastest tall ships in the world, holder of several speed records, she was designed and built in the 1950s by the Río Santiago Shipyard, Ensenada, Argentina.Her maiden voyage was in 1961, and she continues to be a training ship with yearly instruction trips for the graduating naval cadets as well as a traveling goodwill ambassador, having covered more than 800,000 nautical miles (1,500,000 km) across all seas, visited about 500 ports in more than 60 countries, and trained more than 11,000 navy graduates.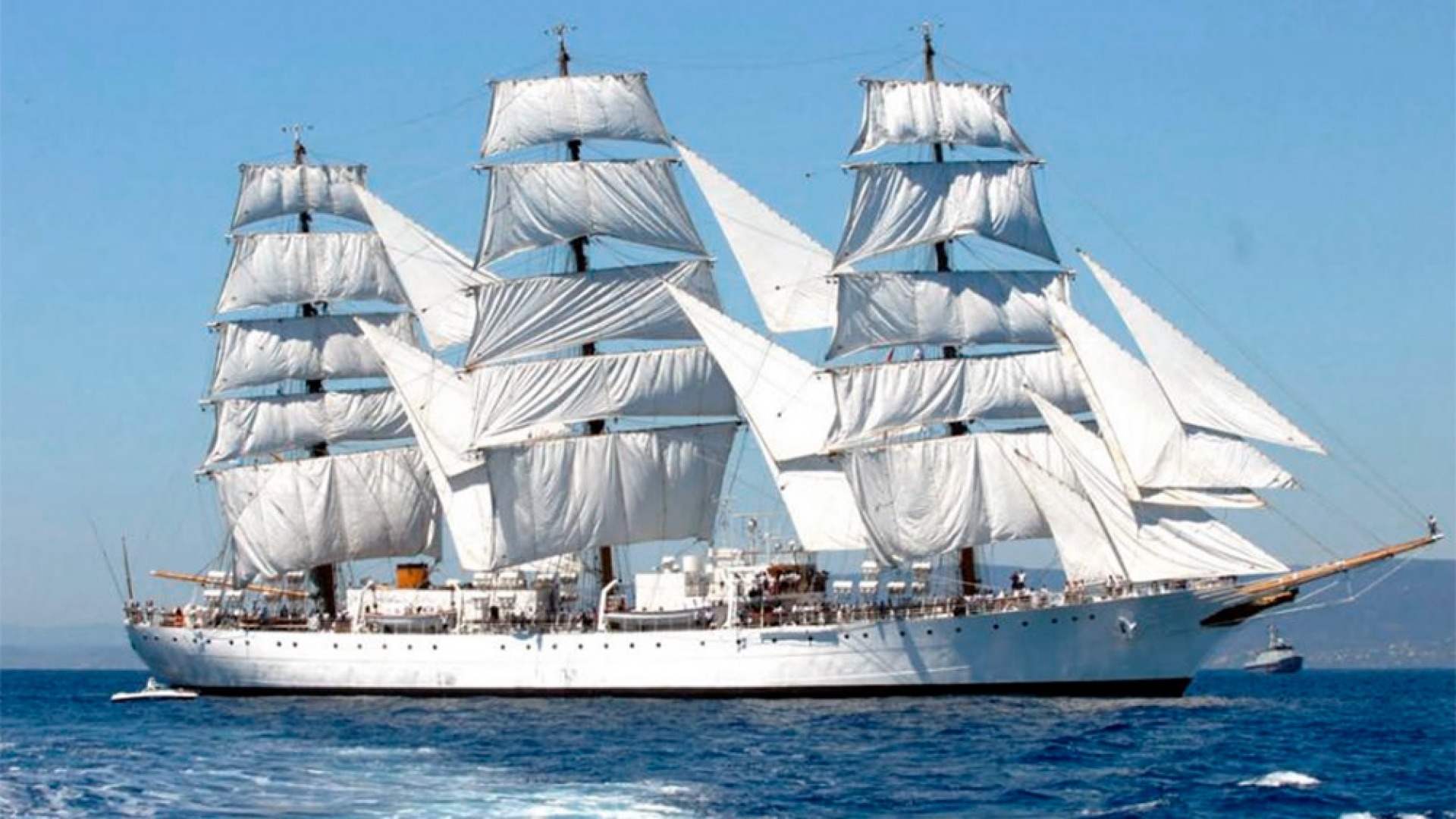 Specs:
The ninth Argentine Navy vessel to bear the name Libertad, she has a total length (including bowsprit) of 103.75 m; a beam of 14.31 m; a draft of 6.60 m; and a displacement of 3,765 metric tonnes: these figures place ARA Libertad as the world's sixth longest tall ship and the third heaviest in displacement.
Her complement is 357, including 24 officers, 187 crewmen and 150 naval cadets.
Among them an ever-increasing number of invited officers from friendly nations' armed forces, personnel from the Argentine Army, Air Force and Coast Guard, students, journalists and distinguished people from different areas and disciplines, both local and foreign.
The ship's follows the archetypal windjammer design, with a clipper bow and a wood-carved figurehead representing Liberty in a long flowing robe and a cruiser stern bearing the Argentine coat of arms in cast bronze.
She is an all square rigged vessel, with bowsprit and three steel masts –Fore, Main (height of 56,2 m), and Mizzen with boom– with double topsails and five yardarms each, which can rotate up to 45 degrees on each side. Five jibs are fixed to the bowsprit.All masts have five square sails, with the foremast and mainmast having three staysails, and the mizzen, a spanker, summing up 27 dacron sails with a total sail area of 2,652 square meters. Masts have a circular cross section, formed by welded steel sheets between 9.5mm and 12mm thick.
The vessel carries four fully functional 47 mm QF 3 pounder Hotchkiss cannons, 1891 model, which were transferred from the previous school ship ARA Presidente Sarmiento.
Although only used as a protocolar salute battery, these cannons make Libertad the second most heavily armed tall ship in the world.
Trophies and notable voyages:In 1964 the frigate competed for the first time in a major offshore race for tall ships between the ports of Lisbon and Hamilton, Bermuda.
And in 1965 she completed her first round-the-world trip.
In 1966, during her fourth instruction voyage, ARA Libertad won the Great Medal Prize for establishing the tall ships' world record for crossing the North Atlantic Ocean using only sail propulsion.

She did so by running between Cape Race (Canada) and the imaginary line going from Dublin to Liverpool –2,058.6 nautical miles (3,812.5 km)– in 8 days and 12 hours, a record that has not been beaten.
During the same trip, she also set the 124-hour run record for a sail school ship at 1,335 nautical miles,for which she was awarded the Boston Teapot Trophy.The captain was Commander Ricardo Guillermo Franke, and the Boston Teapot was presented by Prince Philip, Duke of Edinburgh in name of Queen Elizabeth II.Libertad has won the Boston Teapot Trophy nine times in total: in 1966, 1976, 1981, 1985, 1987, 1992, 1998, 2000, and 2007.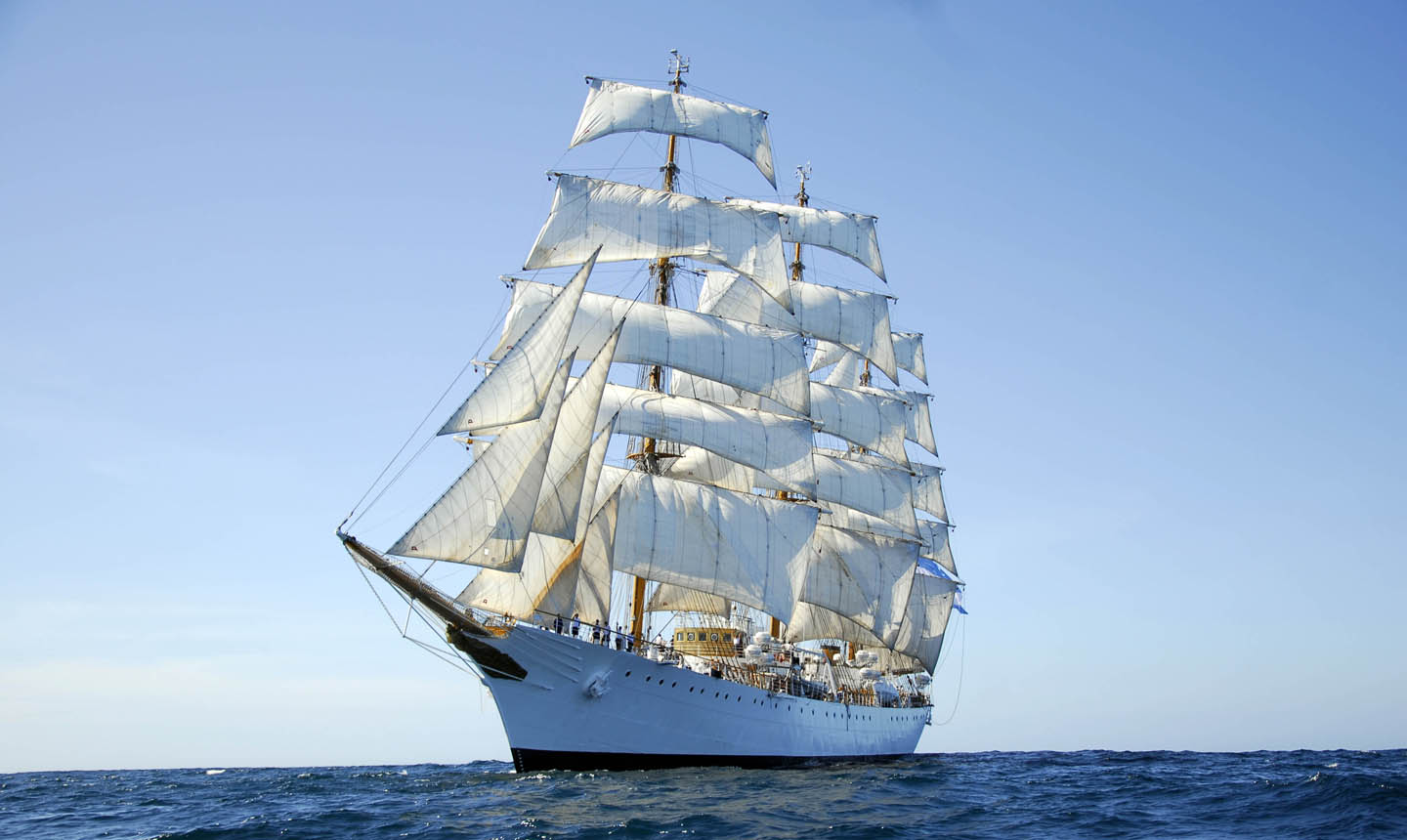 The ship last visited the UK in September 2000 when she called at Southampton Port and had previously visited London in 1995 and 1999.In August 1998 she was invited by the Royal Navy to participate in the International Festival of the Sea in Portsmouth, where she became one of the major attractions of the event.